I am always the clown, the one who is in a good mood and tries to lift others up. Today in the morning I tried to lift myself up –literally- and I couldn't. I couldn't lift my own weight up, had to hold on to the nightstand to get back on my feet.  Searching under the bed for a missing sock had turned out to be too much to handle
The 11 pounds I have lost all of a sudden meant very little. They don't even show. It's just a number on the scale. My mood went from 100 backward to 0 in just a few seconds. Who am I kidding? I am so big -I am almost immobile. I have to sit down all the time, can't even clean a room without taking breaks.
Giving up would be so easy right now. "Just don't sign in anymore, go to the fridge and eat yourself happy."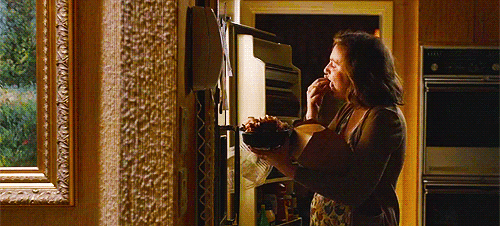 I felt so down, just sat there in my misery and couldn't hold back the tears. GIVE UP the voice inside me whispered, and I thought about it.
I promised myself to lose weight! I set a goal -set a deadline!
Changing me and losing weight, it's not going to be an easy task; the transformation from obese to normal will take a while. I want this so bad -being fat is exhausting. I am tired of being trapped under a layer of fat.
Then why do I think about giving up?
I finished cleaning the bedroom, walked by the mirror and lifted my shirt. It's not pretty.  GIVE UP the voice whispered again and all of a sudden it hit me. I have given up a long time ago. I gave up taking care of myself many years ago. Years ago I gave up and never talked about it. I just let it happen.
It's not so easy to confess tears if you are my age.  It's easier to hide emotions. I have eaten my emotions away for too long, time to face the music.
I am frustrated today, there you go, that's what I am feeling! Here on my blog, I can write about it. My blog, my kingdom, my therapy session.
Many tears will be shed on my way. Some I will feel coming, others will take me by surprise like today. I need to give myself permission to live through all of the mixed emotions. I need to talk about it when I feel sad, and I have to share my laughter and my success.
Big girls do cry, and there is nothing wrong with it. I am here to stay through laughter and tears.
I am not giving up!